You are here
Home

/

Mentoring: Challenge and Support in Equal Measures - San Mateo Public Library
Mentoring: Challenge and Support in Equal Measures - San Mateo Public Library
An Infopeople On-Ground Learning Course
Start:
May 21st, 2014 9:00 AM
Fee: Free of charge
Course Instructor: Course Instructor: Becky Schreiber and John Shannon, Schreiber Shannon Associates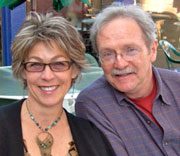 ​
Workshop Description: Mentoring leadership is one of the most challenging and rewarding endeavors we can pursue. The profession needs leadership at every level to continue the transformation of our libraries through innovative services that meet the needs of 21st century communities.
These workshops will use the Eureka! mentoring model to teach the basic principles of effective mentoring, and will allow ample opportunities for on-site practice. The Eurekan mentor is focused on supporting the profession by sharing insights gained through their own successes and failures. The Eurekan model teaches that one must enter a mentoring relationship with a generous spirit and a willingness to explore attributes that build strong leaders. This personal and interpersonal exploration provides the foundation for unselfish attention to the success of those we wish to mentor.
In this one-day workshop, we will explore the attributes, the process, and the challenges of being a mentor. This work will enable us to approach mentoring with a model and new confidence in our own capabilities to guide others to a more effective leadership role in our libraries and in our communities.
Target Audience:

Library directors and assistant directors who are interested in serving as a Mentor at future Eureka! Institutes
Eureka! Fellows who wish to be Mentors to new Eurekans
Anyone interested in mentoring within their organization

Objectives: At the end of this workshop, we will be able to:

Describe the attributes of excellent mentors
Explore the attitude, knowledge, and skills critical to mentoring
Apply the critical steps of the mentoring process
Explain the roles and responsibilities of Eureka! mentors and mentors in general
Demonstrate the skills of giving and receiving feedback
Examine our concerns and the real challenges of mentoring

Agenda:

Introductions and Needs Assessment
Describing The Attributes Of Excellent Mentors

Activity

Best and worst advice we've received
Create a list of positive attributes

Exploring The Mentoring Attitude
Applying the Mentoring Process

Activity (planning for individual situations)

Select each other
Groundrules discussion
Create a clear contract
Implement the contract
Evaluate the contract, goals, and relationship
Closure – moving beyond the mentoring relationship

LUNCH

Explaining The Roles And Responsibilities Of Eureka! Mentors and Mentors in General
Demonstrating Individual and Group Feedback Skills

Activity

Describe the skills
Practice the skills
Evaluate what we've learned

Examining Concerns and Challenges of Mentoring

Activity

Identify our fears
Share real situations
Brainstorm responses and methods of support

Next Steps and Application

Check-in: 8:30 to 9:00 AM Instruction: 9:00 AM to 4:30 PM

Keywords: Mentoring
55 West 3rd Avenue




San Mateo

,

CA

94402




United States