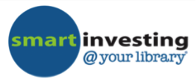 Series: Smart Investing @ the Library – Financial Literacy Resources (1st of 2)
Presenters: Roslyn Donald and Annapurna Dandu of the Santa Clara County Library District
Are you familiar with investment jargon such as P/E ratio, DRIP, and yield?
Do you know your way around financial databases such as S&P's NetAdvantage or ValueLine?
Can you easily find the financial information your patron wants?
With the economy and investment news dominating the headlines for the past several years, interest in investing and personal finance has grown dramatically. These two webinars provide useful tips on conducting an effective reference transaction involving financial information. In particular, the presenters highlight how reference staff can efficiently search for frequently requested data using Morningstar, Value Line and Standard & Poor's NetAdvantage at the desk. The objectives of these presentations are to:
reduce the anxiety surrounding investment terms and jargon
provide interview tips to understand what investment information a patron actually wants
cover the meaning of concepts commonly asked about at the reference desk including valuation metrics (e.g. P/E ratio, EPS and payout ratio) and risk assessment measures in the context of looking at an actual stock (Google is used in the example)
demonstrate how to compare stocks.
The first installment of this two-part Smart Investing series will be of interest to library staff who provide front line reference desk service especially public services and library students interested in business librarianship. The series was produced by Santa Clara County Library District.
Webinar 1 : Standard & Poor's NetAdvantage: Best Uses at the Reference Desk by Roslyn Donald (20:11)
Webinar 2 : Morningstar & Value Line: Best Uses at the Reference Desk by Annapurna Dandu (25:54)
These webinar recordings are free of charge. The Library District acknowledges the support of the FINRA Investor Education Foundation and the American Library Association which made this webinar series possible through a Smart Investing @ your library® grant.