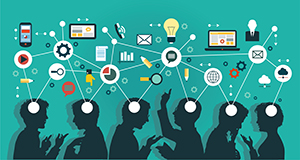 UPDATE! Twelve teams have been chosen to participate in the Learning Culture initiative. Keep checking this page for updates as the training starts in January, or sign up to stay informed by email.
General Information
Building an effective learning culture is a process that can lead your library to be more successful in meeting strategic goals and providing services to the community. In learning organizations, library staff will actively seek out learning in both formal and informal settings, and will more readily apply new skills and knowledge to their work. The result is a library that is able to respond more quickly to change, and is more effective at achieving its strategic goals.
Infopeople is developing a new initiative around the topic of building an effective learning culture for library staff. This online learning program will be experiential in nature and flexible to accommodate busy library staff schedules. Unlike the typical online course, participants will register in teams of 3 – 5 from a single library or library system, and will do work individually and in groups. It will include a virtual mentoring component, and will focus on new delivery methods that are divided into bite-sized chunks. The 12 library teams selected to take part in this pilot initiative are:
Bucks County Free Library, PA
Burbank Public Library, CA
Long Beach Public Library, CA
Los Angeles Public Library, CA
Monrovia Public Library, CA
Monterey Public Library, CA
Oceanside Public Library, CA
Pickering Public Library, Ontario, Canada
Pima County Public Library, AZ
South Carolina State Library
San Jose Public Library, CA
Suffolk Public Library, VA
Information about the training:
Learning will start in January 2017 and continue through June 2017.
Each team will be matched with a mentor for the length of the training.
Content will be developed and delivered by expert instructors.
Training will include both online and offline content and activities and be delivered through less traditional methods such as bite-sized learning, social media and multi-media.
Here is a brief 3-minute video that talks about building an effective learning culture. Brenda Hough wrote a great blog post about it as well. You can also listen to the archive of our Nov 1, 2016 webinar about BELC. Sign up here to stay informed about the Building an Effective Learning Culture initiative. Press release (PDF fomat) announcing the team selection.