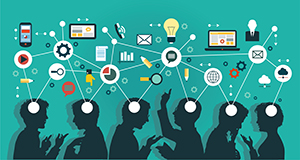 Building an effective learning culture is a process that can lead your library to be more successful in meeting strategic goals and providing services to the community. In learning organizations, library staff will actively seek out learning in both formal and informal settings, and will more readily apply new skills and knowledge to their work. The result is a library that is able to respond more quickly to change, and is more effective at achieving its strategic goals.
Infopeople conducted an initiative in 2016-2017 around the topic of building an effective learning culture for library staff. This online learning program was experiential in nature and flexible to accommodate busy library staff schedules. Unlike the typical online course, participants registered in teams of 3 – 5 from a single library or library system and and twelve library teams were selected to take part in this pilot initiative.
More information about the training:
Learning started in January 2017 and continued through June 2017.
Each team was matched with a mentor for the length of the training.
Content wasdeveloped and delivered by expert instructors.
Training included both online and offline content and activities and be delivered through less traditional methods such as bite-sized learning, social media and multi-media.
Here is a brief 3-minute video that talks about building an effective learning culture. Brenda Hough wrote a great blog post and an article for LearnRT talking about the program as well. You can also listen to the archive of our Nov 1, 2016 webinar about BELC and read the preliminary evaluation report.
Stay tuned for more information about future offerings of this initiative.