You are here
Home

/

Antiracist Collection Development & Programming for Middle School & High School Youth
Antiracist Collection Development & Programming for Middle School & High School Youth
An Infopeople Webinar
Start:
July 29th, 2020 12:00 PM
Start Time: Pacific - 12 Noon, Mountain - 1 PM, Central - 2 PM, Eastern - 3 PM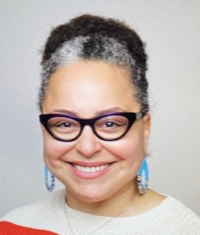 Presenter: Adrienne Almeida, MLIS
Right now, we are a profession called to lead the charge for antiracist work. It's time for listening, reflecting, and thoughtful action. If you are a BIPOC (Black, Indigenous and People of Color), how are you supporting the antiracist work of your white colleagues without doing all the heavy lifting on your own? If you are white, how are you holding yourself and your colleagues accountable to be transparently antiracist in your collection development and programming? Who are you listening to and learning from to improve your antiracist practice? Let's come together to unpack resources and protocols to refresh our toolboxes and inspire our communities to be agents of positive change.
During this hour, we will consider the following:
What books are part of the curriculum at your institution or do you see your patrons bringing in from school?
How are you selecting books for read alouds, book talks, library displays, summer reading lists?
How old are the reading lists? How often are they revised? What current resources are being referenced to revise the lists?
Who are you checking in with to challenge and improve your practice? What Professional Learning Networks have you created time for? How are you sharing the load so as to not feel isolated or crushed?
Attendees will leave with a refreshed toolkit to connect their patrons and colleagues with resources required to be agents of antiracist work in their communities.
This webinar will be of interest to: School Librarians and Public library staff who work with Grade 5-12 youth
Presentation Material
---
Please note: The presenter is not sharing the slides from this webinar. You can view the Padlet created for this webinar here: https://padlet.com/aalmeida9/2hh18im0h19v
---